Helicopters
Bell 212
Sequoia Helicopters exclusively operates the Bell 212 helicopter. As a utility helicopter with a variety of configuration options, the Bell 212 is a staple in the industry and has been used worldwide for many years. Their track record for safety and reliability is unmatched by any other comparable aircraft. All helicopters in our fleet are equipped with 3B engines, fast fins, and strake kits for increased performance.
| Specifications | |
| --- | --- |
| Required Crew: 1 | Endurance: 1 hours 50 minutes |
| Passenger Capacity: 14 | Range: 200 miles |
| Cruise Speed: 100 knots | Max Gross Weight (internal): 11200 lbs |
| Fuel Capacity: 820.7 L | Max Gross Hook (external): 11200 lbs |
| Fuel Consumption: 365 L/hr | |
Equipment
At Sequoia Helicopters Ltd. we have configured our aircraft to be as uniform as possible. Our cockpits are configured so that the flight controls, system switches, radio packages, caution light and pedestal layouts are as close to identical as we can possibly make them. This ensures that our pilots are familiar to where all the systems and switches are (in any of our three aircraft), alleviating any unnecessary stress in a high-stress or emergency situation where pilots always revert to habit-formed practices. Safety is of utmost importance to everyone at Sequoia Helicopters.
We have upgraded our aircraft to 3B Engines which give better single engine performance versus the original 3 Series. Also, all of our aircraft components are duplicated from aircraft to aircraft. This is advantageous because it streamlines operations and facilitates aircraft support.
We have installed the BLR Strake Kits and Fast Fins on our entire company fleet of Bell 212 helicopters. With these modifications completed, our aircraft require less power to lift a given load. Single engine performance is also enhanced and, therefore, we effectively reduce our carbon imprint. We do our best to ensure our impact on the environment is minimal at best.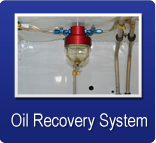 Because we place importance on being environmental stewards, we have taken the steps necessary to reduce any unnecessary impact on the environment. Our engines excess fuel during shutdowns is drained back into our aircraft fuel tanks, as opposed to the original Bell Helicopter's configuration, where it is drained onto the ground. Our vented oil from engines and gearboxes is collected into a common reservoir so it can be properly disposed of.